Robotics & AI, Management & Digitalisation
Grab & Go Retail-Tech powered by Computer Vision
We empower retailers to deliver Grab&Go convenient shopping that shoppers want. Our vision is for a world where offline shopping awaits YOU round-the-corner and feels seamless.
Offline retail, a 12 Tril. EUR market, is losing market share as shoppers go online, more so post-COVID-19. This is because offline shopping is: Not nearby, 24/7 nor convenient; & incurs high operating costs to retailers. 
Our proprietary Computer Vision (CV) tech for Grab&Go shopping is built for scalability and delivered to retailers as an easy to adopt SaaS solution. Benefits to retailers are:
It does not incur high retrofitting upfront costs in existing Point of Sales (PoS)
Eliminates concerns over inaccurate charging or shoplifting
Digitalizes the PoS enabling functionalities such as in-store analytics, just-in-time replenishment and shelf space yield monitoring that helps retailers optimize operations and increase sales.

 
Perhaps the most important effect is that our tech can enable retailers & local producers to open new PoS' in locations where the incurred operating cost with conventional manned cashiers or with self-scan solutions, would not have been economically viable. This fascinates us most to work on tech for the new normal where urbanization takes a step back and low-touch economy steps-in. 
We have won Venture Kick, named 2020 Top Swiss Retail-Tech by Startup.ch, and received R&D grants by the Innosuisse, the Swiss Innovation agency. Our tech superiority is in the real time  algorithm fusion we use for product and action detection with low dependence on extensive data gathering & annotation while preserving shoppers' privacy.
Contact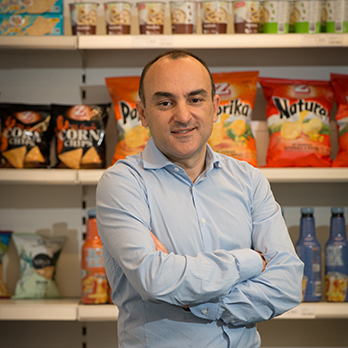 Alejandro Garcia founded Ai Retailer Systems in 2019. He is an expert in IoT solution engineering. He previously was responsible in the area of product management and business development for a renowned broadband communications solution provider. He has an MSc. in Telecommunications engineering and an MBA from the University of St. Gallen. His leisure time passion is in sailing and playing chess.