Manufacturing & Materials, Health & Food
Innovative implantable materials
We unites entrepreneurship, medical device engineering and photochemistry to improve the medical treatments of tomorrow.
Lumendo AG is a spin-off of the two Swiss Federal Institutes of Technology: Eidgenösische Technische Hochschule Zürich (ETH) and École Polytechnique Fédéral de Lausanne (EPFL). Lumendo unites entrepreneurship, medical device engineering and synthetic chemistry to build new injectable solutions for dentistry and surgery technologies of tomorrow.
Our ambition is to disrupt the one-billion root canal treatment device market with our novel solution: a high-quality, innovative implantable material. Our technology enables outstanding patient outcomes and time-saving surgeries for the clinicians. We are a well-balanced and highly motived team with the ambition to make fundamental changes for doctors and patients.
Lumendo was founded by Dr. Andreas Schmocker, who holds a PhD in Biomechanics & Optics and Dr. Mark Bispinghoff, who has a PhD in Photochemistry. Since 2018, the founders joined forces to combine IP and knowhow from different universities. The founders are assisted by a 15 people-strong, diverse, talented, and ambitious team with +10 nationalities that has highly complementary backgrounds in business and technology.
Contact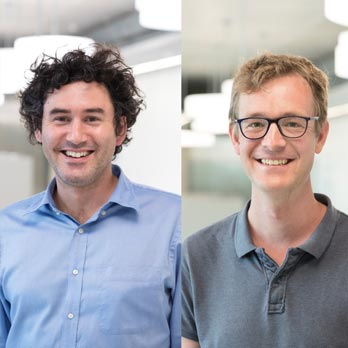 Co-founder Dr Mark Bispinghoff as CTO (PhD in Inorganic Chemistry / Co-founder Dr Andreas Schmocker as CEO (PhD in Biomechanics and Optics)