Democratizing Human Motion Analysis
VAY AG has developed a precise software for human motion analysis based on computer vision that allows sustainable training and recovery in the comfort of one's home for a healthier life.  
Leveraging the power of Artificial Intelligence and combining it with human expertise, VAY's computer vision-based motion analysis offers a hardware-agnostic technology that allows to perfectly perceive and predict human motion in real-time using the camera from a regular phone or device.
Until now, analysing and interpreting human movements required either multiple, often complicated, physical trackers and multiple-camera installations, or the presence of a movement specialist, both of which are extremely expensive and allow very little flexibility for the intended user or patient. Hence, we see a strong need for affordable motion analysis from a simple monocular camera. Current web and mobile applications have not yet integrated technologies such as the human pose estimation and therefore miss the opportunity of generating data to understand human motion or include it into their user experience.
VAY's solution allows companies to integrate professional human motion analysis into their existing or new applications to track, understand, and analyze their users' movements. This way, we help our clients to create more immersive, intelligent, and cost-effective solutions for their users based on camera technology available in devices such as a smartphone, tablet, or laptop.
Contact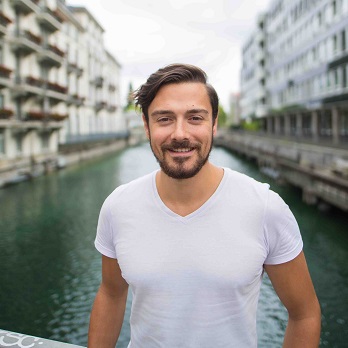 CEO & co-founder, Joel Roos has a personal background in professional volleyball and a technical background from ETH; the cross of these two passions are what led him to founding the #1 human motion analysis in fitness and health.